LASHBOOM brand loyalty program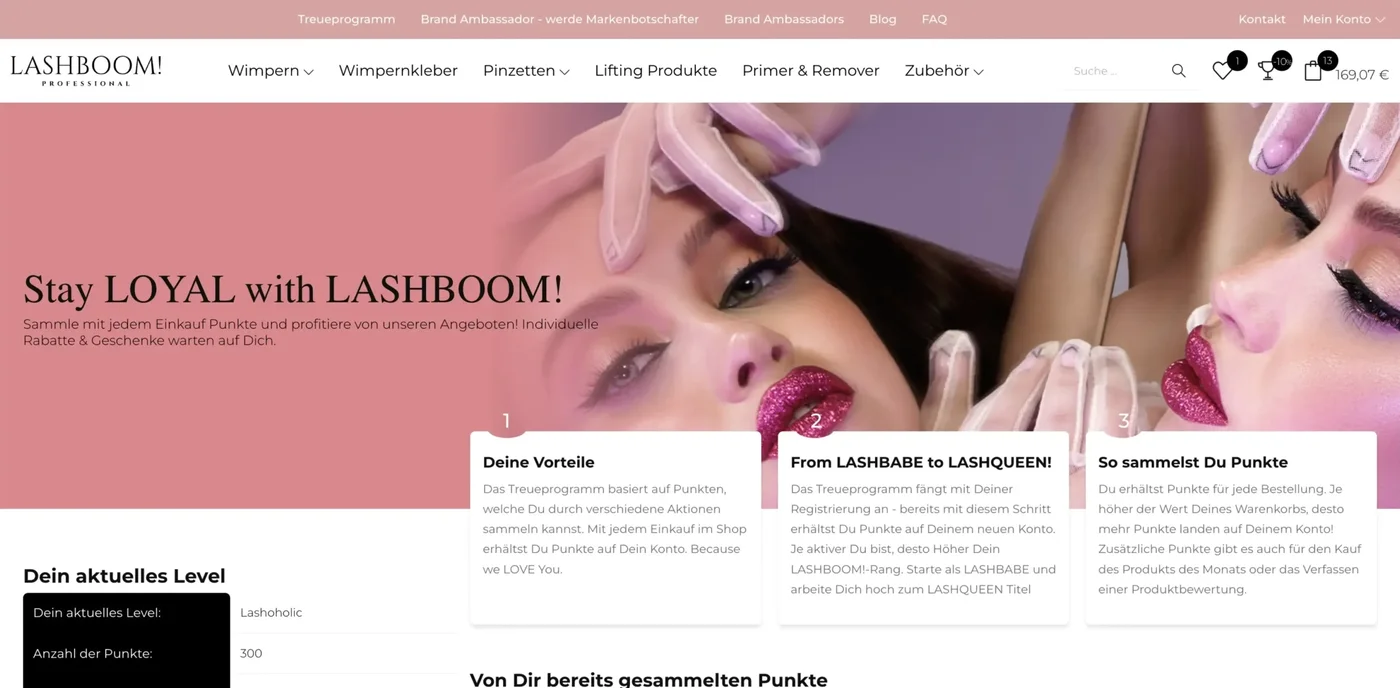 | ABOUT THE PROJECT | SERVICES | TECHNOLOGY |
| --- | --- | --- |
| A well-designed loyalty program can help companies retain customers and increase sales. One such example is the dedicated loyalty program we built for the brand LASHBOOM! This program consists of three levels that are awarded for a period of three months, and users can earn levels based on a point threshold. The user collects points for events performed in the store. Events are passed through an API to a marketing automation tool that triggers scheduled automated sequences. Our loyalty program has helped increase customer engagement, build brand loyalty and drive revenue growth. | | PrestaShop |
About the brand
The manufacturer has been creating professional eyelash styling and lifting products since 2014. The brand's products have high recognition in German-speaking markets. The brand's products are eagerly used by professional salons, and clients themselves solicit this brand in salons. The brand currently enjoys high recognition in DACH markets. It's also important for the brand to expand into European markets and ensure the high level of experience demanded by customers looking for premium brands.
The challange
During the implementation of the online store, the client turned to us to implement the concept of a loyalty program, which we had developed based on the experience we had gathered and the research we had performed on maintaining user loyalty. For the customer, this area is very important, as customers usually order products for the showrooms and this is done periodically. With the implementation of the loyalty program, we have developed a mechanism for granting levels for a strictly defined period of time, which allows us to increase email/sms/push communication through the marketing automation tool with which we have integrated.
As part of the work, we established three levels of loyalty and for which events the customer gets points. Among other things, the customer was to get points for purchases of a certain value, purchases of certain products or even leaving a review.
We programmed the entire solution within our proprietary module for PrestaShop and integrated via API with a marketing automation tool that performs marketing communications sent from our module.
The customer within the levels has different fixed discounts that must be properly shown in the store which also became a challenge to set the discount policy in the store so that only the highest discount is applied.
The implementation consisted of a graphic design phase, programming of the module and implementation of marketing automation communications. We comprehensively handled the implementation of the solution from A to Z planning and implementing communications in the Polish and German markets.
The result
25% of users who are in the loyalty program account for the online store's revenue. Nearly 6,000 users have signed up to participate. Customers who did not sign up for the loyalty program and chose to reorder represent only 31.73% of the total. On the other hand, the percentage of customers who signed up for the program and decided to reorder is 56.53%. Regular customers who are not in the program place an average of 4.93 orders. Meanwhile, customers who joined the program place an average of 7.64 orders. Which is an average of 2.71 more orders (a 60% increase).
Success stories of our clients
Benefit without limits from our knowledge base